Tigerrr
July 15th
Male
Havana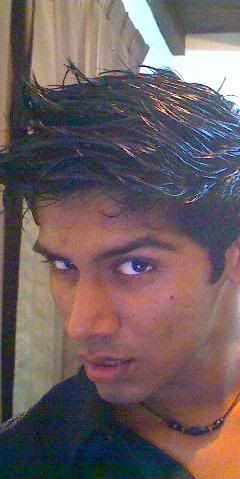 Welcome to my little plot of sunshine. That subtle light amidst the shady trees of my life. These are my rants., My boresome evenings, The attention whore in me....screaming for attention. Its not all that bad.

Me: Dramatic. Crazy. Introverted....No, I mean extroverted.. Non-national. Picture Making. Chatting thru life. Headingless. Tropical. Into caucasians, but all make a chance. AA (when it suits me). Music always on...

Just a crazy 18 year old...
This page has been optimized for viewing in a 1024 X 768 resolution
Saturday, March 22, 2008
This is to let you all know that Farid is still alive & kicking, and that he has moved his blog:
http://faridje.blogspot.com/
Go check it out and read all about his adventures in Cuba :)
Posted at 11:06:37 am by
Tigerrr
Feed My Ego
Tuesday, November 13, 2007
I would have like a really good picture here, me looking like I am crying while waving a surinamese flag. That would be a sucky way to show my feelings, because in truth, I kinda like the fact that I am leaving.
Cuba for 6 years might be very refreshing for me. New people, new language, new surroundings. You get the point, but that gets me thinking, do I really need a new beginning?

I will be staying in Sandino. Sandino is a small town of about 40k people in the Pinar Del Rio province in western Cuba. It gets destroyed every so often by hurricanes. Cool huh?

Well Ill update tomorrow

Ciao maricones

Posted at 6:44:11 pm by
Tigerrr
Feed My Ego
Thursday, November 08, 2007
It will take a whopping 16 hours.
4.5 if it was a direct flight.
Yes people, you have guessed it right. Im moving to Cuba. I finally got all of my documents ready, and now I am all ready to leave.
Well that technically depends on your definition of ready. I haven't started to pack my bags yet, and I am a battery charger (complete with batteries) short of a checked list. So I need to do some more shopping. What will a homo do without his Fructis conditioner :P

I bought my ticket today for 730 USD.
I leave at 5 in the morning on November the 15th. From Paramaribo to Port of Spain in Trinidad & Tobago. The flight will take 1.5 hours.
From Trinidad & Tobago, I leave at 8 am local time for Kingston, Jamaica. Along the way we will stop in Bridgetown, Barbados and in Saint John, Antigua. The total of the trip from PoS to Kingston will take 5.5 hours (complete with stopovers).
From Kingston, Jamaica, we (the scholarship people) will take Air jamaica at 5 pm towards Havana, Cuba - - And once again, we will make a quick stop in Montego Bay, Jamaica. This leg will take 3.5 hours
Now I am not exactly sure of the times because I am just writing down what I remember.

But I will be in Havana by 8pm on November the 15th

I am so excited. I will be reporting in from all the international airports. Lets all hope they will have WiFi access hubs.
Currently listening to:
Good Girl Gone Bad
By Rihanna
Posted at 1:11:28 am by
Tigerrr
Feed My Ego
Monday, November 05, 2007
no use in keeping a secret
a lot of crap with the scholarships now
maybe I'm not even going

Posted at 1:08:57 pm by
Tigerrr
Feed My Ego
Wednesday, October 31, 2007
This is my second article for gay.eu
sorry I haven't been writing lately, Its been really hectic with the running around for my visa. But it looks like the end is in sight, Im getting my documents later today.
Anyhow, have a read at my second column article:
The Army Of Super-Whores
We have all heard about the Monica Lewinsky political sex-scandal which rocked the white house in 1995-1996. The Rebecca Loos – David Beckham affair should be amongst those well known sex-scandal cases as well. The George Michael caught-with-pants-down-in-a-public-bathroom was also one of those memorable ones. The list goes on and on, people love sex, and where there's sex, there will be scandals.

In Suriname we have our own type of scandals. Even more outrageous than anything you have ever heard before. Scandals with flagrant incriminating evidence, yet nothing gets done about it. Alleged child molestation charges, adultery of the highest degree, child labor, embezzlement of government funds yadda yadda yadda. Did I also tell you that all these charges have been made against one single person? He owns the complex next to my house, which makes him my neighbor.
If you passed by my house (which is a roomy 200 square metres) you would understand the enormity of the behemoth structure. That is, in Surinamese standards. It's this huge building, which consists of several houses which have been stitched together. It is far from esthetic, and it has even been painted in a salmon color. Why in-the-name-of-everything-that-is-sane would someone paint an ugly building in a salmon color. Why?
Anyway, the building complex has a lot of areas. It has a warung (Javanese restaurant), a pool hall, the living quarters and the pool area. The pool has been finished for quite some time now, but it was never filled. It now serves as a mosquito larvae incubator. Which is not a good thing considering I live next door. The living quarters are funny actually, they're more like cages. And they took complete advantage of the fact that the university is only 700m from them. They offer low income housing but with even lower quality standards. The rooms are so small that your bed gets wet if you take a shower with the bathroom door open. The cages are rented to students from the (outer) districts who have no other alternative for a place to stay, so they pay the hundred bucks a month. Aside from these cages, there are two suites in the complex as well, these are quite grand in comparison.

I am finally getting back to the core of my story. It is about the inhabitants of these suites. The complex is owned by an ex-politician. The same ex-politician who has been charged (but never prosecuted –because he is a politician--) with all those things I referred to in the beginning.
The upper suite is the new house for his new überwhore. She is a young student, and also his protegé. I bet he is training her in all the ways possible. Front back, and side to side J
The lower suite is now the house of his ex überwhore. This one won a beauty pageant some time back and I bet that is how she appeared on 'the politician's' radar. She was 16 at the time. Ever since she got pushed down from her position at the top of the politician' s whore-chain, she also has moved on. Her current beau is a married man who just happens to be a minister of the state. She is moving out to a new house soon. This new home comes with a garage with room for two cars. Oh yeah, did I mention she already has the cars to fill the garage? This is a girl with no known education, (incidentally, by the way).



Back to the first politician.
Further down my street he recently erected another building. No-one knows where he gets his money from. No wait, he used to be in politics. That explains everything.
Now this new building is nothing other than a girls orphanage. A pedophile is opening a girls orphanage. Welcome to Suriname. Population: 487.000 idiots.

The weird thing about this all is, people are actually screaming to get their daughters into that orphanage. Knowing what will happen to their daughters. I guess that the economical situation amongst the Javanese people in our country is far from desirable. People are giving their daughters away to this orphanage in the hope that their daughters can fuck their way out of poverty. Something at which they stand a better chance of doing in this particular orphanage. It is sad actually. These little girls will be making up the army of superwhores in the time to come. Screwing politicians near you. I bet they get exported too.

If you were wondering why Suriname isnt doing so well, this is why. It is because these superwhores of the government need houses and cars.

I want my own politician who will pay for my house and two cars. Why do these superwhores always go first. I am way better at sucking dick than they are – and according to miss Monica L.-- that should be enough.
Currently listening to:
Good Girl Gone Bad
By Rihanna
Currently listening to: The Entire CD
2 Hearts Pt. 2
Currently listening to: The Leaked Tracks
X
By Kylie Minogue
Currently listening to: Je T'aime, Moi Non Plus Feat. Jane Birkin
Je t'aime moi non plus
By Serge Gainsbourg
Posted at 10:46:33 am by
Tigerrr
Feed My Ego
Wednesday, October 24, 2007
This is an unedited article I wrote for gay.eu
It was my first, hopefully not the last. Tell me what you think.
HIV?
We have all heard about it. We all know about it (well most of us do), and we all know how dangerous it is. HIV is one of the most dangerous diseases known to mankind, mostly because there is no known cure. As there currently are about 40 million people infected with HIV, this is a pretty big problem. The infection rate amongst gay men is steadily decreasing (guess we finally learned something :P) but it is still present. In the meantime, the HIV infection rate in heterosexuals is rising. Rising fast. But what am I saying, we all know that HIV is out there, and we all know how to protect ourselves, right?

"If you really love me, you would take off that condom" How many of you have ever heard that? Obviously barebacking is more personal and way more pleasurable, but does that give you the excuse? Barebacking amongst gay men (or anally active heteros:P) is the activity which has the highest risk of HIV transmission. It's not that blowjob that you give to your neighbor, it's anal sex.
Now that we're talking about blowjobs. It has a far lower risk of HIV transmission, that is if you're not one of those nasties who swallow. I won't debate on the practice, but swallowing is very dangerous. So please try to refrain from it.

Ok. We all knew that as well. But lets say that you did contract HIV. You did have unprotected sex that one time with that hot guy. It only takes one single microscopic virus to do the trick. So what is your next step? You have HIV, what do you do? Wait for AIDS to come?
Nope, everyone with a logical sense would go to the doctor. In developed countries AIDS-blockers are relatively easy to come by, and probably even covered by your insurance. The arrival of effective blockers have been a godsend to many. These blockers can significantly prolong the third (asymptomatic) phase of the HIV infection. A regular third phase usually stretches from 1-7 years, but now, when effective measures are employed (e.g. the blockers), the asymptomatic phase can be stretched to three times as long, 21 years. There have even been cases of people dying a natural death, several years after contracting HIV.

What does this all mean? HIV/AIDS used to be one of the most feared diseases. Nowadays (to some) it is being regarded as something as commonplace as asthma. Something that they can live with. Which is true, but it still runs a risk of infecting others. A weird thing about HIV is that it affects everyone differently. You might last for many years in the asymptomatic phase, but your neighbor might not even last 6 months. Even with AIDS-blockers.

This euphemism of HIV is a troubling phenomenon and should be dealt with quickly before we all just see HIV as some other flu-like disease. I'm talking about ad-campaigns or anything of the sort. We all have the awareness, but do we actually comprehend the situation? HIV is still being spread while there are effective countermeasures, even in developed countries. And to make a difference, you need to start with yourself. If you plan on being monogamous in your relationship, that doesn't mean that your partner is too. Make sure you know what you're doing. But then again, if you do contract HIV, that doesn't mean you're gonna die. Or does it?
Currently listening to: The Entire CD
Fever
By Kylie Minogue
Posted at 12:04:52 am by
Tigerrr
Feed My Ego
Tuesday, October 23, 2007
I dont really post here anymore.
because I am sick. I have aids
whahahahhaha just kidding
I have a bad case of the flu. All
I do is sit at home, and stare at
the PC. That is actually supposed
to make me write more, but since
I do not get out much, my existence
gets a little bit more boring than it
usually is.
I have also been writing for my
column at this european gay web-
site. Its nice I guess, and I got some
positive (no pun intended) feedback

I'll post the articles shortly

Just bear with me for a few days

Currently listening to: 2 of Hearts
Better Than Heaven
By Stacey Q
Posted at 11:54:40 pm by
Tigerrr
Feed My Ego
Friday, October 19, 2007
I haven't been writing lately because I have been extremely tired.
I usually go to sleep late at night, I keep on watching VH1 (America's most smartest model, I Love New York 2 etc. etc.). And I have to wake up early in the morning to finalize my documents for cuba.
It is taking forever. First my documents had to be ready, an HIV test, a birth certificate, a copy of my diploma, a copy of my examresults, a note from my doctor saying im not crazy and a note from the police department saying that I never went to jail.
All these documents take weeks to finalize, but my grandma (knowing everyone in the legal system in Suriname) pulled some strings, so I have those documents.
Then I had to translate the documents into spanish. Muyto (a lot of) drama there. I translated all but the HIV document. I thought that I needed a name on it, and as we drove away from the translator we discovered that it was confidential. So we had to go back another day to translate that piece.
Now, the documents have all been translated, and we need to legalize them before turning them in at the Cuban embassy. They need to be legalized by the ministry of Justice and by the ministry of Foriegn Affairs. So a double-legalization. They charge 20 USD per document at the ministry of Foreign Affairs. Which means that I will have to pay 160 USD sometime next week.
So today was one of those days when I woke up being more dead than awake, which kind of defeats the purpose. So I slaved to get ready and be in the city all bright and early. The legalization office closes at 9:30, so I had to be early, or else I would have wasted another day. When I arrived there, there was a huge queue. So I just stood in line, and when it was my turn, I presented my translated documents along with my ID card. This was after an hour or so in the queue. The woman asked me where the original documents were. I told her that these translated documents were just as good, because they were translated by an offical translator. He would not have translated the documents if they weren't genuine.

This is where it went wrong.

She started flashing me and screamed at me, telling me that I shouldn't tell her how to do her job, because she has worked there for 20 years, and she damn well didn't need no punk kid telling her what to do.
I wonder why I always seem to bring out the negative parts in government workers. Its probably because their jobs suck beyond all recognition. She should have been happy that I needed her help, or else I would have laid the verbal-smackdown on her overweight-ugly-black-ass.
Anyway, so I got sent away. I endured torture while trying to wake up for nothing. So now I lose another two days because nobody works in the weekend.

Anyway, so next week will be another week of morning torture.

It is taking a toll on me. I am tired almost all the time, I sleep in the afternoon, and now I am sick. Some kind of flu/fever.
And my Fever and Light Years albums on my PC are missing. (Yes they are Kylie Albums)

Currently listening to: The Entire CD
Good Girl Gone Bad
By Rihanna
Currently listening to: Relax (Take It Easy)
Life in Cartoon Motion
By Mika
Currently listening to: The Entire CD
Now Dance 2007
By Various Artists
Posted at 7:32:52 pm by
Tigerrr
Feed My Ego
Monday, October 15, 2007
What is the average lifespan of a human?
Averaging the numbers from third world and first world countries, you get about 71 years (worldwide).

How many days does that make?
71X365+18 (days added for leap years) = 25933 days.

How many days have I uselessly wasted oxygen?
About three weeks (21 days).

What percentage is that of my life?
0.08%

This feels fucked up. I sit, eat, breathe, lounge around. No purpose. And I've wasted 0.08% percent of my life. This is a cause for a small panic.
This is why I am starting the driving lessons again, very quickly, to try and get my license in time, before I go to Cuba. That way, when I come back, I wont have to start all over, my license will remain valid for another 10 years.
I mean, it is not like I have been completely useless. Wait. No. That's not true, I'm just trying to feel a little bit better about myself.

Never mind, continue with your life.


Currently listening to: No Work All Play, Play With Fire, Burned
Dignity
By Hilary Duff
Currently listening to: Bombay Feat. Jim Beanz & Amar
Timbaland Presents Shock Value
By Timbaland
Currently listening to: Hole In The Head
Overloaded: The Singles Collection
By Sugababes
Posted at 4:09:06 pm by
Tigerrr
Feed My Ego
Sunday, October 14, 2007
Sugarfeast, a literal translation.
Ugh, I don't like religious things, I'm only in it for the food

Currently listening to:
Showgirl Homecoming Live
By Kylie Minogue
Posted at 4:29:26 pm by
Tigerrr
Feed My Ego